CAREER & SCOUT is a head-hunting company specialized in
recommendations for the right people, recruitment and career consulting.
Company Introductions
Career & Scout is a professional Executive Search firm aimed at pairing
professionals with organizations in any industry.
Career & Scout uses its broad network and experience to effectively guide professionals toward their career goals.
Executive Search

Recommendations for CEO/executive
Recommendations for
working-level/manager-level

Career Consulting

Employment consulting for new/experienced applicants Operating 'Job Hunters' online café on Daum Operating 'Career & Contents' specialized in employment ontents

Research Division

Own Research team specialized in each industry Prompt recommendation with DB Management System Direct recommendation for working talents
About Career & Scout
CAREER & SCOUT, as a Head-hunting(Executive Search) Company with core human resource pool,
always provides recommendations for the talents suitable for business and specialized Employment Consulting Service for applicants.
CAREER & SCOUT is searching and giving recommendations for highly qualified professionals to Domestic Companies, Foreign Companies in Korea or Global Companies considering characteristics and culture of the industries.

CAREER & SCOUT provides reasonable employment solutions. Our own recruitment system "CIS(Collective Intelligence System)" and broad candidate pool realize differentiated recruitment solutions

CAREER & SCOUT has many head hunting consultants with the professionalism based on the enhanced hands-on experiences in t he fields and their human resource pool with organized head hunting system and out-search makes specialized solutions and differentiated

Good knowledge in the industries and jobs,effort to understand the culture and needs of the company, extensive researchto evaluate candidates' abilities, these are what CAREER & SCOUT is the best at, and the strength of CAREER & SCOUT
Company Profile
Name of Company CAREER & SCOUT, Inc.

CEO Michael Chwe (President)

Business Head-hunting, Employment Consulting, Career Consulting, Operating
Employment Institution for Foreign, Overseas Employment

Clients Domestic Companies, Korean branches
Local corporations of 500 Fortune Companies

Address Career & Scout Co., Ltd. KFPA Bldg. 35-4 Youido-Dong,
Youngdeungpo-Gu, Seoul, Korea, 150-885
COMPANY CERTIFICATION
ISO9001 Certified Company
Business furnishing employment information registration
Job placement service authentication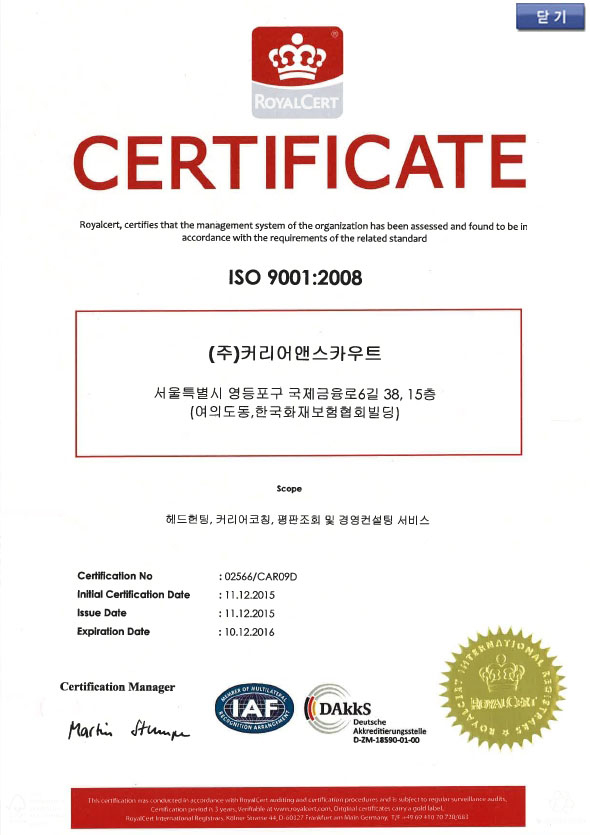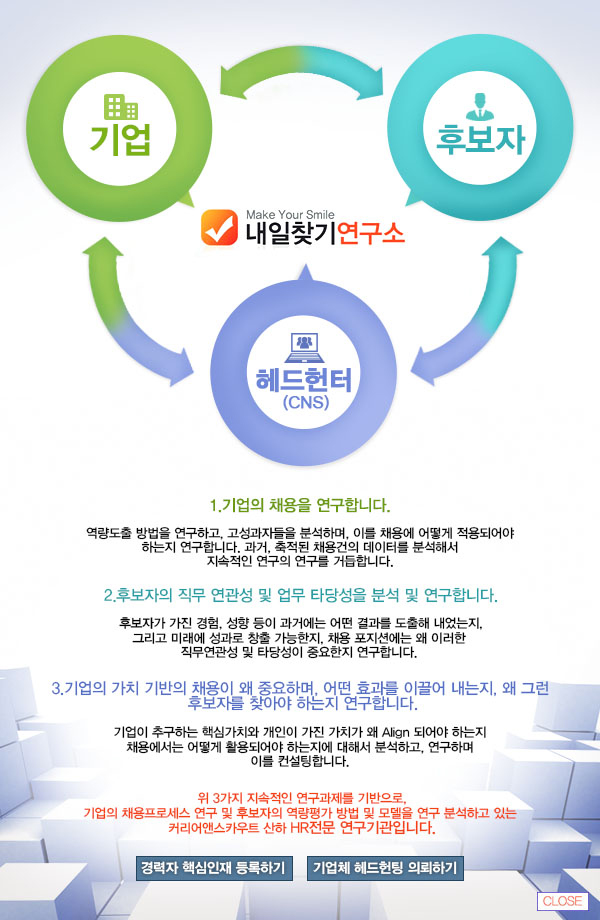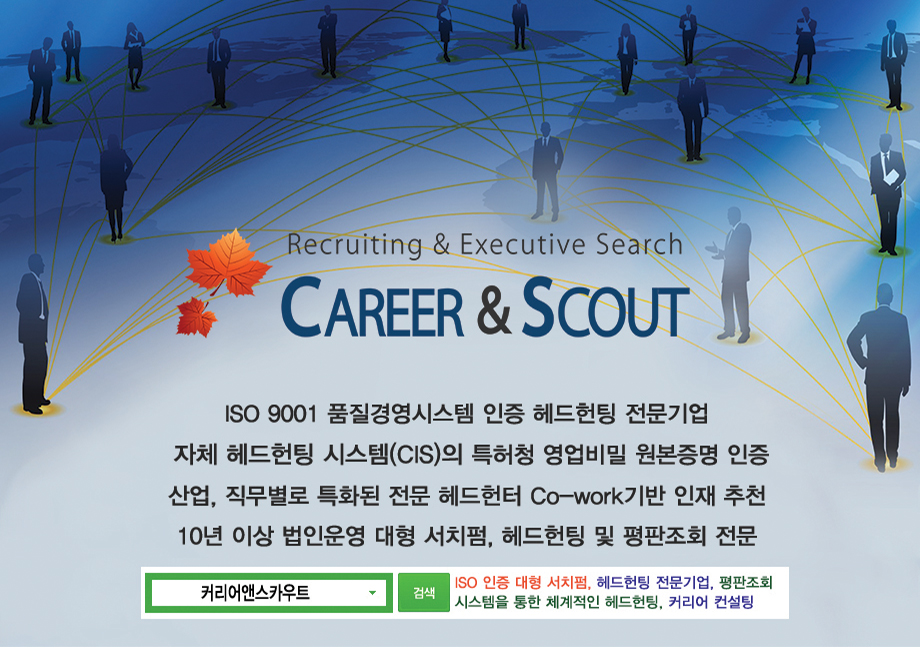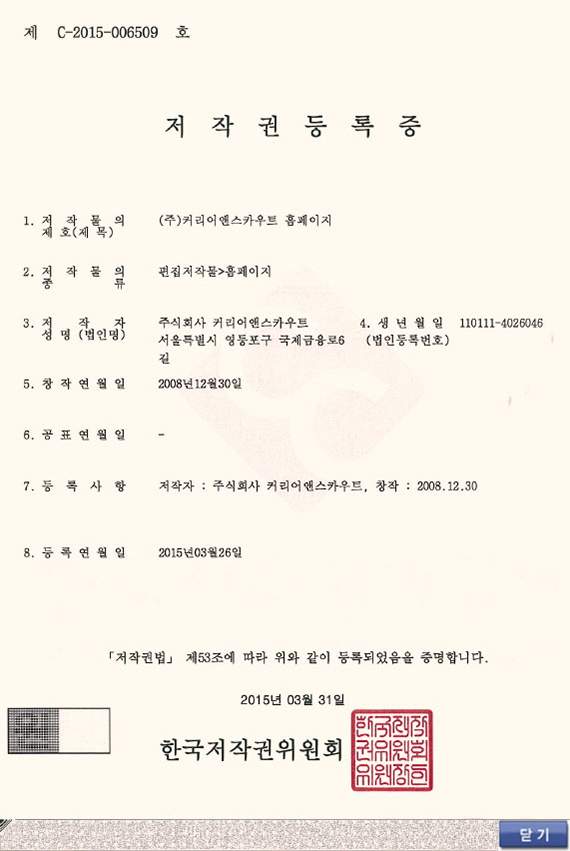 추천하기
선택하신 채용정보를 다른분께 이메일로 보내주세요. 회원님의 이메일 주소는 회신용 이외에는 사용되지 않습니다.
채용정보 안내

국내교육대기업 해외마케팅 기획/전략 대리~과장

받는사람 이름
받는사람 이메일
받는사람 연락처
내용 (자동구성)

[아래와 같은 내용으로 메일이 발송됩니다.]
안녕하세요. 커리어앤스카우트 입니다.
귀하의 지인인 [입력된이름](입력된이메일)님이 커리어앤스카우트 사이트에서 [[채용제목]] 채용 정보를 검색해서 귀하께 해당 정보를 보내드리는 것입니다.




채용제목 : [채용제목]




위 링크를 보시고 입사지원(회원 온라인지원 혹은 이메일 입사지원)을 하시면 추천을 진행해드리겠습니다.




인재의 재발견, 커리어앤스카우트가 항상 지원해드리겠습니다.
감사합니다.